Description
A new benchmark in audio interfaces has arrived: EVO.  Created by renowned British audio brand Audient, EVO delivers a new level of user experience with one focus: to make recording easy. EVO launches at NAMM 2020 where visitors to the Audient booth #10102 can get their hands on the 2in / 2out audio interface EVO 4 – and find out more about EVO 8 which will be available soon after.
Marketing director, Andy Allen explains Audient's thinking: "We believe technology shouldn't get in the way of the creative process; it should enhance it and be accessible to all, no matter what their skill-level or art-form and EVO is here to help make great-sounding recordings as easy and effortless as possible.
"One of EVO's most unique features is Smartgain which automatically sets the gain levels when the user starts playing or singing," continues Andy. "This is perfect for anyone who wants to focus on being creative, or perhaps is just starting out," he says. "Of course pros can still dial in the gain manually, if they choose – as well as benefiting from other features they'd expect from a professional audio interface."
The EVO range provides high performance, all new EVO mic preamps with 58dB gain range, class-leading converters with a 113dB dynamic range alongside a JFET D.I, Smartgain, Smart Touchpoints, speaker/headphone outputs, ultra-low latency, monitor mix and loopback functionality – an impressive feature set for its price point.

Innovative Smartgain function automatically sets input levels
The Audient EVO 4 features an innovative Smartgain function, which helps you set gain quickly and accurately so you can get to the business of creating without worrying about clipping and distortion. The way it works is simple. Just press the Smartgain button and select the channels you want to use to record. The Smartgain LED will flash red to indicate that it's listening. Then, start playing, singing, or speaking into your microphone, and Smartgain will automatically and correctly set the input level. Smartgain is a total gamechanger for new engineers, podcasters, and solo recordists, that will speed up the recording process and give you great results every time!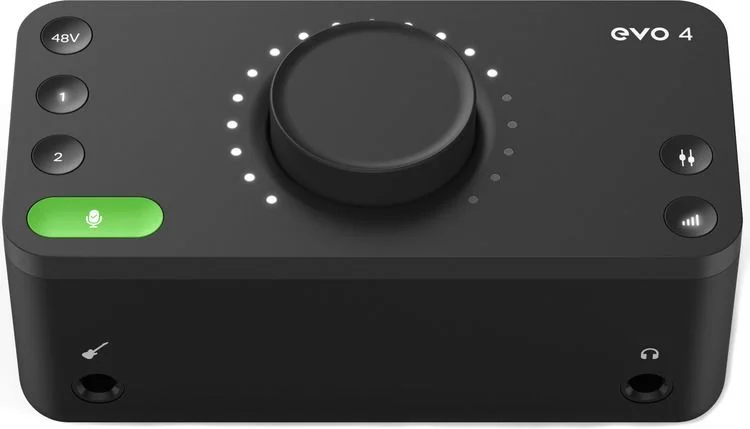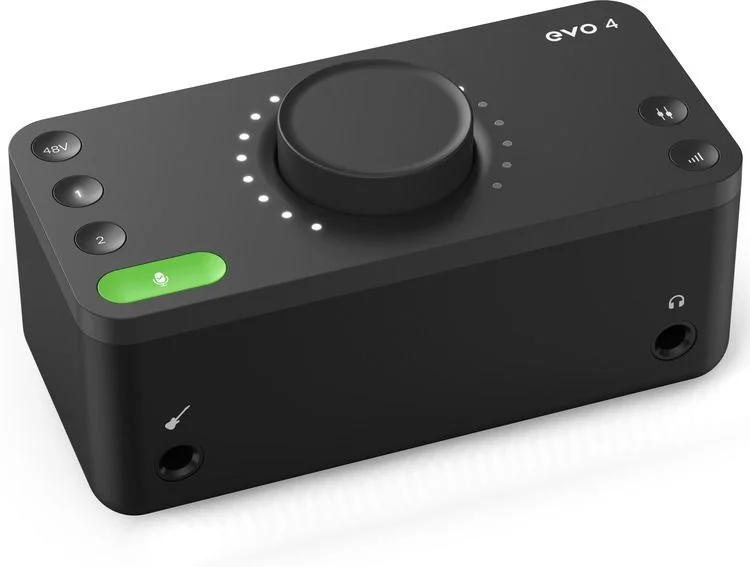 Take command of your session with the EVO Control app
The Audient EVO 4 includes the EVO Control app — a small application that's compatible with both MacOS and Windows. This convenient app empowers you to make fast, easy adjustments to the EVO 4's hardware directly from your computer. EVO Control is a really all-inclusive app, enabling you to set and monitor levels, mute microphones, activate Smartgain, and more without touching the audio interface itself. The application's interface boasts the same sleek aesthetics as the EVO 4 itself — right down to the unit's attention-grabbing meter ring.